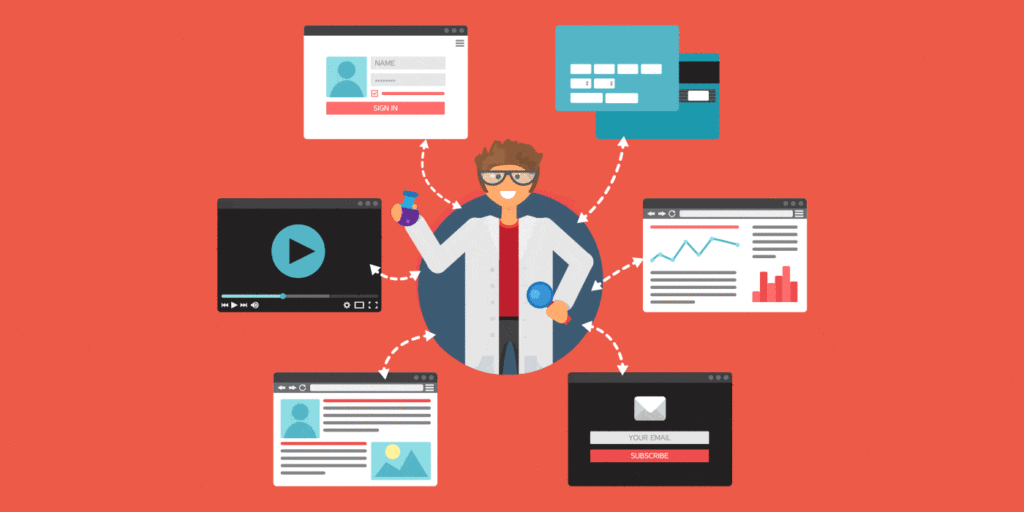 TOGAF, short for The Open Group Architecture Framework, is methodology organizations use to develop their IT architecture. It was first established in 1995 and was derived from the Technical Architecture Framework initially created by the US Department of Defense. The framework is currently maintained by the Open Group Institute.
TOGAF is used to assist organizations in creating an IT infrastructure that fits their specific needs. Trained professionals familiar with TOGAF, work with different department leaders and help develop and execute an IT plan efficiently.
Why Use TOGAF®?
TOGAF is a comprehensive framework that organizations use to plan, design, implement, and manage their Enterprise Architecture. Enterprise Architecture is divided into four distinct areas – data, technology, application, and business – and heavily emphasizes the use of pre-existing and standardized products and technologies.
Companies that are in the process of implementing or planning to implement a wide-ranging technical infrastructure to support core business applications using open systems architecture can benefit from using TOGAF. TOGAF principles help in creating design and procurement specifications that promote open systems implementation while minimizing risk. TOGAF 9 training and certification are also valuable for individuals who want to work on Internet of Things (IoT) projects.
What Do TOGAF® Certified Professionals Do?
By becoming a TOGAF-certified professional, you would be able to simplify complex technical processes. Many developers and technical leads seek TOGAF certification to gain a better understanding of Enterprise Architecture principles and to increase their chances of advancing to architect and senior architect positions in their careers.
Enterprise Architects (EAs) are responsible for creating the company's long-term IT strategy that aligns with the overall business strategy. They develop the roadmap for technology and applications, guided by the TOGAF standards for technology infrastructure. They make sure that the technology flow is well-defined and that all IT-enabled processes are smooth, from beginning to end.
Enterprise Architects are often working on various transformative programs across multiple portfolios, overseeing multiple meetings and projects, which may include:
An Architecture strategy encompasses all the elements of IT architecture strategy, including assessing the present state, outlining the steps for transition, and defining the target path for the strategy.
Architecture Review Boards are recurrent gatherings of stakeholders who review and give their approval to modifications of the existing architecture.
Portfolio Management is the process of overseeing the overall health and performance of the IT infrastructure.
Governance Committee is a group of stakeholders that are responsible for making decisions on standards, policies, and protocols, specifically in regard to security and requirements.
Technology Lifecycles are the methodology used to plan and execute the changes and versioning of the different technologies in use within an organization.
In short, TOGAF-certified professionals make certain that an organization's ideals and objectives are aligned with aspects of information technology. TOGAF-certified professionals tend to be in strategic management roles and are mostly sought after by big organizations. Moreover, TOGAF training and certification can also be beneficial for those who want to work on Internet of Things (IoT) projects.
Why Get a TOGAF® Certification?
Now let's look at the reasons why should get TOGAF certification is important. Here are twelve reasons why you should consider getting TOGAF certification:
High demand for enterprise architects

As the integration of IT technology and architecture become increasingly critical for an organization's success, more and more companies are turning to TOGAF to plan and manage their enterprise architecture in the short term and long term.

Understand a common language 

Individuals who have TOGAF certified share a standardized set of knowledge and expertise that allows them to better understand and fulfill business requirements.

Staged approach 

The TOGAF Enterprise Architecture certification is divided into two levels: Foundation and Certified, which facilitates the learning journey for professionals. They can start by acquiring fundamental knowledge, then proceed to advance their understanding as they become more experienced.

TOGAF® is a budget-friendly certification

The cost for obtaining the certification is relatively low, with the foundation exam being as low as $320, and for both exams, the total costs can be $495. Though if you choose to take training courses, the overall cost might increase, but still getting certified in TOGAF is an investment that can pay off in the long run.

Boost your salary and your career: 

According to PayScale, the average salary for professionals who hold TOGAF certification starts at over $80,000.

Explore new Opportunities with a TOGAF® certification:

Large enterprises place a high value on certifications due to the sense of standardization that it brings. Obtaining certification demonstrates to industries that you have undergone industry-recognized training and testing and are proficient in concepts that are relevant to your field. This trust in certifications can open up opportunities that might otherwise not be available to you. Large organizations like banks, hospitals, and other industries will have confidence in your abilities and consider you to be the right fit to solve their enterprise management issues.

Speak a Language Common to all Professionals in your Field: 

A significant part of working as a TOGAF professional entails effective communication. The role includes designing and implementing an IT environment for an organization, which necessitates interacting with various professionals. Having a certification helps in speaking the same language as your peers in the industry, making it more comfortable to work in collaboration and gaining buy-in for your ideas.

Meet your Company's needs better: 

Organizations are always searching for ways to achieve the most outcomes with minimal resources, this is the core philosophy of TOGAF. TOGAF training imparts knowledge on how to do tasks in an efficient manner, which can lead to cost savings for the company and an increase in profit margins.

Work on your Managerial Skills: 

TOGAF certification combines technical and management aspects of IT, making it an excellent stepping stone for individuals aiming for management positions. TOGAF professionals often handle designing IT infrastructure from an overall perspective, meaning they have to evaluate and balance different viewpoints while implementing a project. This experience gives them an edge when they pursue management roles.

Validate your skills: 

TOGAF is a well-established certification, in the field of enterprise architecture there are not many other certifications that are as well-respected as TOGAF. Holding a TOGAF certification is a symbol of credibility and demonstrates that your skills and knowledge have been validated. Companies have trust in the abilities of those who hold a TOGAF certification.

Networking Opportunities: 

As with any other certification, obtaining TOGAF certification allows you to network with other professionals in the field. You can form professional connections, stay up to date with industry trends, and exchange ideas that can contribute to the advancement of TOGAF principles.

No Prerequisites for taking the TOGAF® Certification Course:

In contrast to other certifications, TOGAF does not have any prerequisites for taking the certification, making it easy for professionals who want to enter the field of IT architecture to get started after certification.
TOGAF® 9 Exam and Certifications Details
There are no prerequisites to enroll in the TOGAF 9.1 Level 1 (Foundation) course, making it open for anyone to take it.
To take the TOGAF 9.1 Level 2 exam, one must first complete the Level 1 course as a prerequisite.
If you don't pass the exam, you will have to wait 30 days before taking it again. And only 3 attempts per year are allowed.
TOGAF 9 certification for individuals does not require to be renewed.
---
Here at CourseMonster, we know how hard it may be to find the right time and funds for training. We provide effective training programs that enable you to select the training option that best meets the demands of your company.
For more information, please get in touch with one of our course advisers today or contact us at training@coursemonster.com