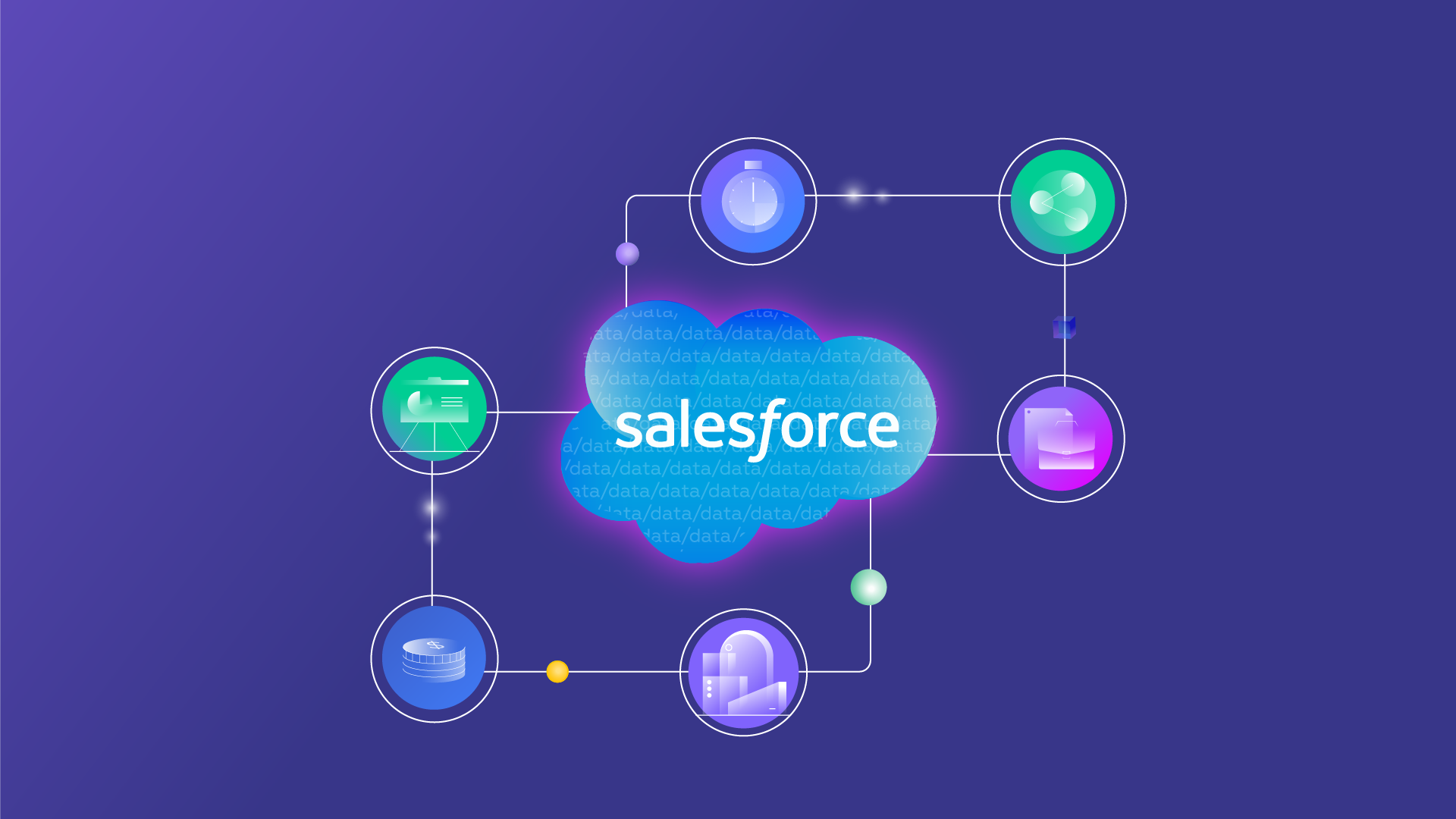 Each company operates with unique processes, which often require customization or integration of the Salesforce platform with custom solutions and third-party applications to address specific business requirements not covered by the platform and its modules. Salesforce AppExchange was specifically developed with this perspective in order to provide a solution for such needs.
What exactly is Salesforce AppExchange?
For Salesforce Ohana members, AppExchange is comparable to Amazon. It serves as the primary destination for Salesforce customers to explore an array of exceptional apps and solutions that cater to their extension and implementation requirements. Whether they seek pre-configured solutions for their custom processes or the expertise of a CRM consultant, AppExchange is the go-to platform for fulfilling their needs.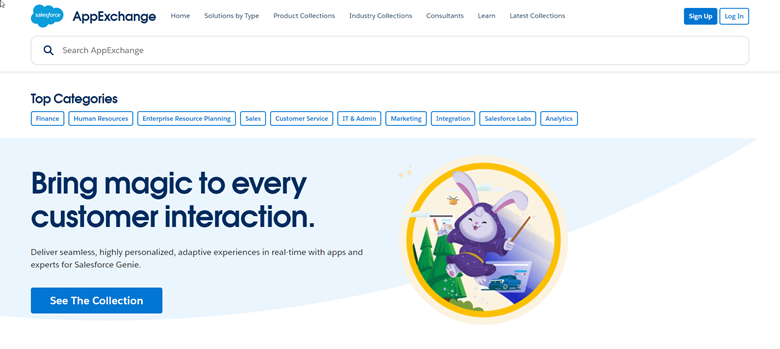 Salesforce AppExchange, the cornerstone of the Salesforce ecosystem, stands as the foremost enterprise marketplace globally. It boasts an extensive collection of over 5,000 listings, around 8 million customer installations, and an impressive count of 90,000 reviews. In fact, it is noteworthy that over 88% of Salesforce customers and 95% of the Fortune 100 have integrated at least one AppExchange app into their systems.
Salesforce AppExchange Solutions
While initially conceived as an app marketplace, AppExchange has evolved to cater to the diverse requirements of Salesforce customers across various industries and budgetary considerations. Testing these solutions before making a purchase is a straightforward process, and you can have full confidence in the rigorous evaluation carried out by Salesforce's security team for each offering.
Ready-to-install solutions
There are over 5,000 ready-to-use solutions offered on the Salesforce AppExchange, allowing you to seamlessly integrate them into your Salesforce organization or incorporate them into your existing configurations.
Apps: Apps available on the AppExchange are pre-built solutions that are ready to be installed in your Salesforce organization. The platform offers a wide range of both free and paid apps, categorized based on their use case, industry, and business process.
Components: AppExchange provides Salesforce customers with the advantage of Lightning-based development and user experience (UX). Within the platform, there are numerous preconfigured Lightning components available, which can be easily incorporated into your applications and pages by simply dragging and dropping them. This helps to minimize the development workload for your team.
Bolts: Salesforce communities offer businesses the opportunity to deliver exceptional experiences to both external and internal stakeholders. To support this, AppExchange provides Salesforce Lightning Bolts. These Lightning Bolts are industry-specific solution templates developed by a partner ecosystem, designed to accelerate your time to market. Lightning Bolts consist of industry process flows, apps, Lightning components, and communities, all seamlessly integrated with the Salesforce platform and CRM. When engaging with the designated SI Consulting Partner, the services agreement encompasses the availability of Lightning Bolts.
Lightning Data: Lightning Data provides pre-integrated, validated, and scalable data solutions that automate data operations like filtering, scoring, and deduplication. This enables end users to concentrate on enhancing their business instead of searching for relevant data.
Lightning Flows: Lightning flows provide pre-built and customizable process automation flows that can be seamlessly integrated into your workflow automation logic without any coding requirements. You have the flexibility to download and install standalone building blocks containing flow actions, as well as configurable pre-built business processes with flow templates.
Industry-specific solutions
AppExchange offers users the convenience of searching for industry-specific solutions to enhance their Salesforce org in a single location. It provides a wide range of industry-specific Bolts, process automation tools, process apps, and components, allowing you to find the relevant solutions that cater to the specific requirements of your business.
Categories of Salesforce AppExchange Solutions
AppExchange solutions are categorized based on their construction and management methods. All solutions fall into one of the following categories:
Native Apps: Native apps are developed and hosted within Salesforce using the Lightning Platform. These apps reside within Salesforce itself and do not need a separate integration. When you use native apps, all your app data is securely stored within Salesforce.
Non-native Apps: A non-native app is an application created externally from Salesforce, which integrates with Salesforce using the Salesforce API. This app is hosted outside of the Salesforce platform, and its data may be stored in locations other than the Salesforce servers.
Managed Packages: Managed packages are comprehensive solutions that can be installed in their entirety. The provider of the package takes care of customization and upgrades to ensure optimal performance. Customers only need to install the package in their organization to benefit from the desired business outcomes.
Unmanaged Packages: Unmanaged packages are shared as open-source solutions that serve as a foundation for developers to build upon when creating functionalities. Developers have the freedom to use these packages and make modifications to align them with their project objectives. It is important to note that customizing or upgrading such packages is not the responsibility of the providers.
How to Use Salesforce AppExchange?
Having explored the offerings and advantages of utilizing Salesforce AppExchange, let's now provide a succinct yet comprehensive list of reasons for utilizing AppExchange:
Step 1: Sign in to Salesforce AppExchange using your Salesforce credentials to access a fully personalized experience tailored to your specific needs.
Step 2: Discover intelligent recommendations on the "Recommended For You" page, where you can explore solutions that address your specific business challenges. AppExchange analyzes your search history, business problems, and related searches to provide you with tailored recommendations that align with your needs. As you continue to use AppExchange, these recommendations become increasingly precise and relevant.
Step 3: Explore industry-specific or solution-oriented products and consultants that align with your specific requirements.
Step 4: Utilize the search feature to find solution/service providers, where you can access valuable information such as cost, business use case, demo, customer reviews, website address, rating, and more.
Talk with your Salesforce administrator
Please note that only administrators have the ability to install apps and customize them according to your requirements. Therefore, it is important to inform your Salesforce administrator in advance about the apps you wish to try for your specific needs.
The AppExchange's Future
Salesforce's significant acquisitions like Tableau and MuleSoft, coupled with its focus on technological advancements such as Artificial Intelligence (Einstein) and personalized experiences, present immense possibilities for app developers to introduce innovative customizations to Salesforce through AppExchange.
---
Here at CourseMonster, we know how hard it may be to find the right time and funds for training. We provide effective training programs that enable you to select the training option that best meets the demands of your company.
For more information, please get in touch with one of our course advisers today or contact us at training@coursemonster.com