What Does Agile Do?
"Doing" agile without fully comprehending the reasoning and ethos behind the methodology on an intellectual, emotional, and cultural level entails adhering to all the processes and guidelines without internalizing them.
Once an organization embraces agile software development methodology, it can quickly start to exhibit signs of "doing agile." The act of doing agile typically appears as follows:
The enterprise has adopted an iterative approach, developing projects in incremental steps.
The enterprise may utilize the Kanban board or Scrum framework to manage this iterative approach effectively.
The team structure is non-hierarchical.
Workloads are divided into themes, epics, user stories, and tasks.
Agile estimation techniques, such as Gantt charts, are used to estimate and plan tasks.
Teams conduct regular stand-up meetings for a set period, sharing their progress and potential impediments.
Retrospectives are conducted to continuously identify areas for improvement.
To sum up, "doing agile" can resemble an ostentatious ceremony where everyone adheres to a dress code without understanding the underlying purpose behind it. It can also give the impression that all tasks are being executed flawlessly, yet there is a palpable feeling that something essential is absent, and no one can identify precisely what it is.
Challenges of Only Doing Agile
If teams are merely "doing" agile without fully embracing its principles, an enterprise may encounter obstacles during the project development phase. These difficulties might manifest in the following ways:
Regular stand-up meetings become a mechanical routine of reporting status when done without understanding their purpose and spirit, defeating the purpose of agile transformation.
Retrospectives are used to make lists of problems instead of arriving at solutions together with a sense of ownership.
Team members have less confidence when they don't fully understand the processes, leading to less satisfaction for customers, the ultimate goal of agile methodology.
Overemphasis on processes and tools can create fear in team members, hindering their ability to express themselves and take the lead.
Teams caught up in processes and tools often lack mental space to experiment, innovate, and think creatively, leading to a lack of passionate involvement with the product.
Even with collaborative infrastructure in place, teams in "doing" mode can hardly collaborate effectively.
We can draw an analogy between "doing" agile and performing a ceremony, such as a marriage or religious ceremony, where actions are taken without understanding their meaning, significance, spirit, and purpose. While it may look good on the surface with music, fancy clothes, and good food, it may not yield the desired results. Similarly, merely "doing" agile may appear glamorous on the surface, but it does not help enterprises achieve the desired business value and technological excellence.
What is Being Agile?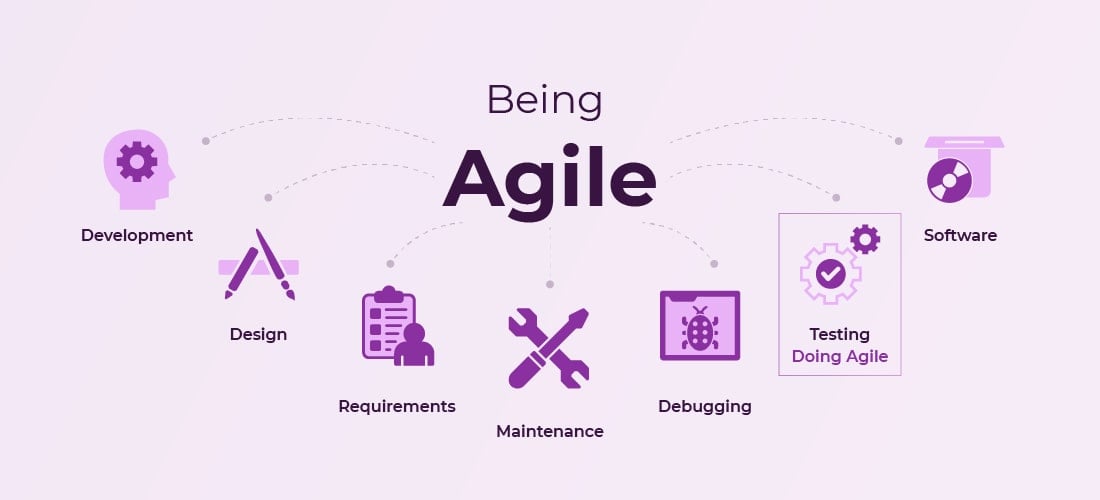 To "be" agile means to practice all of these processes with deep awareness, understanding, and knowledge of agile principles and values. It requires living and breathing agile for any enterprise undergoing agile transformation.
It's important to understand that being familiar with or practicing agile principles and values isn't about simply memorizing them. Rather, it's about internalizing the fundamental principles and values of agile and developing a mindset that naturally thinks, feels, and acts in an agile manner.
To adopt agility as an enterprise, it's essential to create a customized manifesto based on agile principles and values. As for individuals within the organization, being agile entails not only comprehending the core principles and values of agile but also familiarizing oneself with the enterprise's tailored manifesto, which is created specifically for the enterprise, by the enterprise, and aligns with its objectives.
In an era where novel phrases such as "modern agile" and "heart of agile" are becoming more prevalent, embodying agility may involve the following:
During a regular stand-up, when an impediment is mentioned, a member or a group of members step forward to solve it instead of just discussing it.
Teams work iteratively and incrementally, constantly receiving feedback from customers and being open to it.
Teams prioritize creating a minimum viable product of value over spending excessive time on planning.
Leaders support the individual and professional growth of team members.
Leaders provide strategic direction and guidance instead of direct interference in project development.
A safe, valued, and respectful environment encourages people to express themselves confidently.
A supportive, empowering, and collaborative atmosphere leads to great products, higher customer satisfaction, and greater business value.
Teams move away from operating independently and instead transform into cross-functional units, assuming a shared sense of responsibility and ownership.
To build on the previous comparison, "being" agile is akin to conducting a ceremony with complete comprehension of its significance, purpose, spirit, meaning, and intended outcome. It's a more favorable position for agile practitioners to be in, and it can also be referred to as "walking the talk," meaning that one precisely does what one says and mean.
Challenges of Only Being Agile
The challenges of solely espousing agility involve talking the talk without walking the walk. This means that while one may possess an in-depth understanding of agile values, principles, and procedures, one may lack the drive to apply or embody them.
For instance, an enterprise may have a leadership team that possesses extensive knowledge of agile techniques, principles, and values, but they may not possess the necessary skills to train their staff. In such cases, "being" agile may prove to be a charade, where everything exists only in the mind and heart, and nothing is put into practice.
Doing Agile vs Being Agile in 2023
In 2023, the primary obstacle to agile implementation is striking a balance between doing and being agile. As we've observed, achieving the desired agile transformation is not solely a matter of doing or being, and neither is sufficient in itself to accomplish the enterprise's aspirations.
So, what approach can be taken to bridge the gap between doing and being agile? How can we tackle the issue of doing agile versus being agile in 2023?
What Can We Do to Close the Gap Between Doing and Being?
A well-known Zen koan states that "a coin lost in the river is found in the river." By utilizing this insightful wisdom to confront the difficulties of doing agile versus being agile in 2023, an enterprise can leverage the 12 principles of the agile manifesto to create a customized master manifesto that aligns with its culture and inclinations.
While each enterprise's master manifesto may vary, a typically customized manifesto that could help bridge the divide between doing and being may resemble the following:
Encouraging teams to become more "effective" by reflecting upon past performance and improving internal processes and communication, in accordance with the 12th principle of the Agile Manifesto.
Recognizing that success requires a willingness to change, innovate, and learn in response to project needs.
Establishing continuous feedback loops that enable teams to quickly change direction as required by the project.
Developing safe and sustainable approaches to accommodate and manage changes that naturally arise during the software development cycle.
Incorporating cultural change into the workstream as part of the agile transformation process.
These are a few methods that businesses can use to close the gap between doing and being. Only when the senior leadership is fully aware of what it means to do agile and what it means to be agile in 2023 can the debate between doing agile and being agile be resolved effectively.
Conclusion
Agile methodology has been adopted by organizations worldwide as a way to improve their software development processes and increase their responsiveness to changing requirements. As we look ahead to 2023, it's clear that Agile is here to stay, but the focus is shifting from simply doing Agile to being Agile.
---
Here at CourseMonster, we know how hard it may be to find the right time and funds for training. We provide effective training programs that enable you to select the training option that best meets the demands of your company.
For more information, please get in touch with one of our course advisers today or contact us at training@coursemonster.com